Prior to half term, the Halliford Art Department launched the Inter-House Pumpkin Carving Competition. This year was a little different as we looked to make it more sustainable and were encouraged to carve, cook and grow for a greener tomorrow.
Ms Hetherington shared a link to an array of pumpkin recipes so we didn't waste those tasty pumpkin insides and could turn them into delicious dishes the whole family would love. We were encouraged to save the seeds and dry them out to grow our very own pumpkin patch for next year's competition. With prizes awaiting the most creative and sustainable entire, who will be the pumpking?
Students and staff were asked to carve their pumpkins and create their recipes at home, then submit a photograph in return for a £1 donation to charity. The form tutors and tutor groups were then asked to vote on the best design or most sustainable entry from each form. The winning designs were brought into school today and displayed in the playground. Mr Davies chose the winning designs this lunchtime.
The winners of the Inter-House Pumpkin Carving Contest are…
1st – Jenson in 10D for his Haunted Halloween House pumpkin
2nd – Corey in 10G for his Hilarious Hair pumpkin
3rd – William in 7D for his Halliford Crest pumpkin
Sustainability Prize – Henry in 11W for his delicious seeded pumpkin cupcakes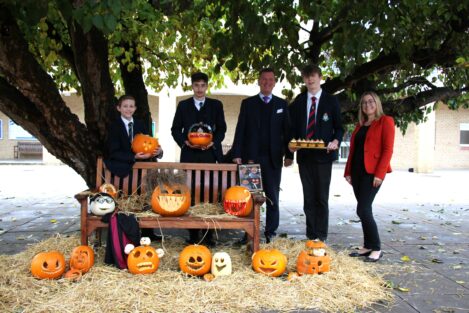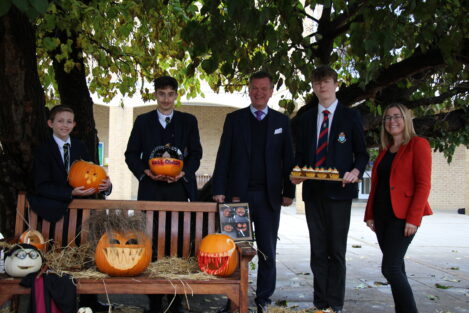 Congratulations to our students, and well done to Desborough House. A huge thanks to Ms Hetherington for running the competition. Please enjoy all of the entries below – a real celebration of Hallifordian creativity!