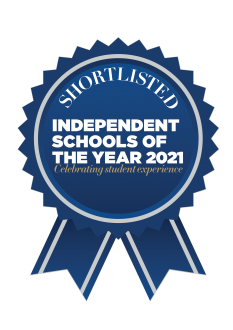 We are delighted to hear that Halliford School has been shortlisted for an award in the Healthy Eating category for the Independent Schools of the Year 2021 Awards. Halliford is well known for our amazing food offer at morning break and lunch, with an amazing menu rotated on a three-week cycle allowing all Hallifordians to try a wide range of new foods.
The aim of the Independent Schools of the Year Awards is to highlight the excellence of the student experience in independent schools. On the evidence of the submissions, the independent school sector in Britain is demonstrating resilience and agility, while continuing to deliver a first-class educational experience to its pupils despite having to live with ever-changing levels of restrictions.
We are very lucky at Halliford to have our own on-site catering team, and our aim is always to provide a healthy, varied, nutritional and great tasting balanced meal to energise and enable our students to flourish, achieve and become the best version of themselves that they can possibly be. Our lunches are designed to be light and digestible to give plenty of energy and keep the students alert throughout the day.
For our more senior students taking early Strength & Conditioning classes in the sports hall, the catering team provides breakfast afterwards, serving porridge, wholegrain cereals, poached or scrambled eggs and a selection of fresh fruits. With experience catering for premier league football teams and elite athletes, the offer is based on the principles of sports nutrition.
The Halliford Cookery Club is a new initiative launched last year to encourage our students to develop their kitchen skills, knowledge of nutrition and the benefits of a healthy diet. Interest remains high, with dozens of students logging in to Microsoft Teams to cook along together from home.
We look forward to hearing whether we have made the final in September.