We are delighted to learn that Old Hallifordian James Woodgate has been selected as one of the six archers that will represent Team GB at the Tokyo Olympic Games.
James Woodgate left Halliford School last year, and at just 18 years old, is the youngest member of the archery team to be selected for Tokyo. Upon leaving Halliford last Summer, James commented, "I am really happy with my A Level results and feel very lucky under the circumstances. I am grateful to all the Halliford teachers for their hard work and support. I now plan to take a gap year to focus on my archery in the Olympic squad." We are so proud to see that James' hard work and dedication to the sport has been rewarded.
Headmaster James Davies said, "I am absolutely thrilled to hear this amazing news for our former Deputy Head Prefect, James. Throughout his time at Halliford, James had the gift of successfully balancing superb academic success alongside his overriding passion for archery. As his training needs increased, we were delighted to be able to help him with time in the Sports Hall at weekends, and I was always in awe of his incredible skill and talent for the sport. James possesses all the Hallifordian values of being a brilliant team player and superbly resilient, but most of all, it is James' warm heart that we all miss here and which we are sure will enable him to be a splendid member of Team GB in Tokyo. As the brother and son of two former Olympians, I know some of the delights and demands that James will have ahead in the coming weeks and months and will be cheering for him on every step of his Olympic journey. There can be no greater honour than to represent your country, and we are immensely proud of this magnificent achievement and send James and his fellow GB athletes the very best wishes of the entire Halliford School family."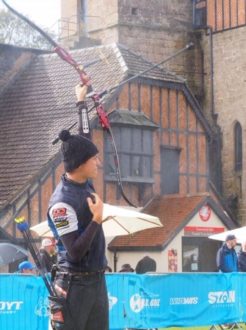 James picked up the sport at the age of seven, started competing at the age of nine, and has always performed well in his age group, placing in the top 3 at National Championships several times. In 2018 he won the Surrey Junior Outdoor Championships and became the reigning Southern Counties Archery Society champion. He was then nominated by Archery GB as one of the four cadet recurve men to represent Great Britain at the European Youth Cup 1st Leg as part of their development programme. He finished the season with the gold medal at the Archery GB Key Event Finals held in Caldicot Castle in Wales. From there he has gone from strength to strength.
Mrs Woodgate commented, "We are absolutely ecstatic for James, especially after the challenges of the last twelve months due to the pandemic. James really committed to his training in October and was presented with the selection opportunity. The Olympic coaches and Performance Director were obviously impressed with his skills, but also his attitude. We put this down to the magic dust that is sprinkled at Halliford School. Both of my boys have benefited from their time at the school. They were mentored, encouraged and given the self-belief that they can achieve anything. James has a confirmed place at Warwick University starting in September and has every intention to aim for the 2024 Olympics and maybe even the 2028 Olympics."
Archery joins shooting, triathlon, sport climbing, canoe and sailing as the first sports to announce the athletes selected to Team GB for the rescheduled Tokyo 2020 Olympic Games, which will take place from 23 July to 8 August 2021. We will be watching will pride and excitement.