Halliford students recently took an exchange trip to Bayonne along with Notre Dame School, Cobham. In this article Hallifordian, Arya, shares his passion for French and memories of the French exchange.
"Ever since I joined Halliford School in Year 9 the Modern Foreign Languages department, and more particularly, the French department, have been really encouraging. Thanks to the support of Madame Wain, I have truly been inspired to improve my French every day and take it as far as I can at School.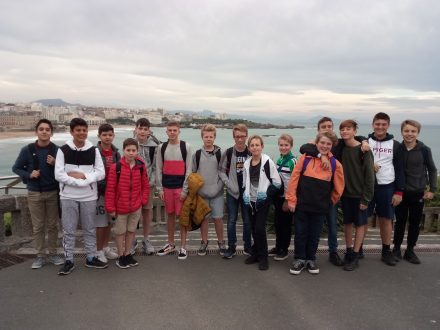 Fortunately, the Halliford Modern Foreign Languages Department offers the amazing foreign exchange trips for any keen students.  The Foreign Exchange Programme enables students to practice their chosen languages to a whole new level, make new friends and create useful links for the future. Personally, I adore the French language. It has always been one of my passions and never have I enjoyed studying it as much as I have at Halliford. This I owe to the hard work of my teacher and the marvellous French exchange trip.  
During the Autumn Term I took part in our annual French Exchange.  I had such an amazing time in across the Channel! Firstly, I had the privilege of staying with a lovely French family in Bayonne with whom I had a lot in common. Secondly, I was able to visit my exchange's beautiful School where I played a variety of regional sports, my favourite being Pelote, attended a variety of lessons and made some great friends. Furthermore, the regional foods such as chillies and chocolates were delicious.  We were blessed with the perfect weather and all of us Hallifordians were given a truly warm welcome. We were even able to visit the lovely village of San Sebastian in Spain. What's not to love?  I would strongly recommend the French exchange trip to any enthusiastic MFL students out there.  Why?  Because it really stretches your linguistic skills!"